Demolition blasting is a very time and cost effective method of demolition which is often overseen due to the perceived danger of explosive. Contrary to popular belief demolition blasting is the safest method of Demolition.  Mechanical demolition require the demolition workers to be exposed to the structure while the structure is being destabilised, while in demolition blasting, all personell are removed to a safe distance before the structure is destabilised.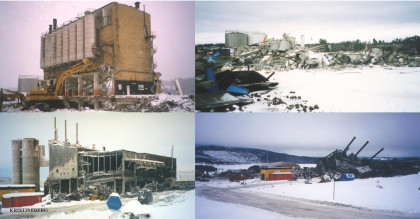 The principal of OC, Rauf Osterman has 28 years of experience within the Tunnelling, Construction and Mining Industry with demolition blasting being one of his favourites. Through the years Rauf has been involved in a large number of varying Demolition blasting projects. These projects include, high rises, Large factory buildings, Silos, Chimneys, Water tanks and Bridges.
The ability to manage complex blasting projects in all disciplines of civil drill & blast is only possible with an in-depth knowledge of explosives and their usage. Once possessed, these qualities can be used to design and manage any form of new challenge. Demolition blasting is a complexed engineering process that requires these skills since every project is unique requiring tailored planning, assessment and design.
Since demolition blasting specialists are a rare breed, OC works in collaboration with Australia's most renowned demolition blasting specialists. The collaboration is generally in the form of pier reviews but can at times include design collaboration for larger projects.